Sibel Akyol Klimstra, M.D.
Psychiatry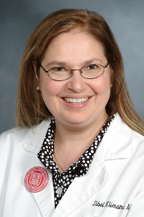 Sibel Klimstra, MD is the Director of Medical Student Education in Psychiatry, Associate Vice Chair for Education at Payne Whitney Westchester, Director of Residency Training in Geriatric Psychiatry, and Associate Professor of Clinical Psychiatry. She is also the Director for Weill-Cornell's Medical Student Psychiatry Clerkship.
Dr. Klimstra graduated summa cum laude from Barnard College, Columbia University with a BA degree, majoring in Biopsychology. She received her MD degree from Yale University School of Medicine in 1988, and stayed at Yale for her adult psychiatry residency, becoming Chief Resident and receiving the Laughlin Fellow Merit Award in 1992. She also completed a PGY-V fellowship year in geriatric psychiatry at Yale University with J. Craig Nelson, MD. After training, she came to the Westchester Division due to its renowned geriatric psychiatry program, headed by George S. Alexopoulos, MD. She has remained there ever since, establishing clinical research interests in geriatric psychopharmacology, depression, and cognitive dysfunction.
Currently, she is an Investigator on several NIMH-funded research grants involving the prevention of geriatric depression and the prevention of suicide in the elderly. She is an author of papers published in the prestigious geriatric psychiatry journals, the American Journal of Geriatric Psychiatry and the International Journal of Geriatric Psychiatry. She has also authored several book chapters on geriatric mood disorders and inpatient geriatric psychiatry. She has served as an oral board examiner for the American Board of Psychiatry and Neurology (ABPN) and currently serves as a committee member for the ABPN's Geriatric Psychiatry subspecialty examination. She is very active in the American Association for Geriatric Psychiatry (AAGP) and is the Chair of the National Training Directors' Workshop, a member of the Teaching and Training Committee, and a Geriatric Mental Health Foundation mentor to medical students and residents.
She has received multiple medical student and resident teaching awards including Faculty Teacher of the Year Award from the adult psychiatry residents in 2001, an Excellence in Teaching Award from Weill Medical College of Cornell University in 2002 and 2011, Teacher of the Year Award from the geriatric psychiatry residents in 2005, Educator of the Year Award from the AAGP in 2008, and a Mentorship Award from the geriatric psychiatry residents in 2011.
To contact Dr. Klimstra's office:
Call - (914) 997-5807.