Robbyn E. Sockolow, M.D.
Pediatric Gastroenterology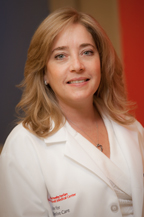 Voted one of New York Magazine's Best Doctors, 2012
Voted one of Castle Connelly's America's Top Doctors, 2012
New York "Super Doctor," 2012

Dr. Robbyn Sockolow is Director of Gastroenterology and Nutrition and Associate Attending Physician at NewYork-Presbyterian Phyllis and David Komansky/Weill Cornell Medical Center and Associate Professor of Clinical Pediatrics at Weill Cornell Medical College. She is board certified in pediatrics and pediatric gastroenterology and is also a certified Physician Nutrition Specialist. In 2011, she was selected for New York Magazine's Top Doctors, Castle Connelly's America's Top Doctors, and as a New York "Super Doctor."
A pioneer in making capsule endoscopy more user-friendly for children with her "jellybean test," Dr. Sockolow's clinical interests include inflammatory bowel disease (IBD), constipation, pediatric gastroesopahgeal reflux disease (GERD), autistic spectrum of GI disorder issues, pediatric obesity screening, and malabsorption disorders.

After receiving a B.A. at Emory College in Atlanta, Georgia, Dr. Sockolow completed her medical degree (M.D.) at New York Medical College. She continued her medical training at Montefiore Medical Center in New York City, where she completed her residency in Pediatrics. She followed this with the completion of two fellowships in pediatric gastroenterology at Mount Sinai Hospital (New York City) and Montefiore.
Related Links:
OR-Live: Pediatric Capsule Endoscopy, presentation by Dr. Sockolow on OR-Live
WCBS-TV: 'Pill-Cam' Helps Diagnose Disease In Children
NYP-YouTube: Dr. Sockolow on Capsule Endoscopy in Pediatric Patients
NYP-YouTube: Dr. Sockolow on Treating the "Total Child"
NYP-YouTube: Dr. Sockolow on the Center for Advanced Digestive Care
NYP-YouTube: Dr. Sockolow - Biography