Robert J. Min, M.D.
Vascular and Interventional Radiology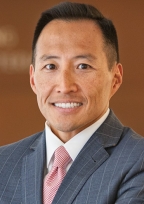 As Chairman of Radiology, I am committed to providing you and your patients with the highest quality of care and service. Please do not hesitate to contact me with any questions or if I can be of any help. I look forward to hearing from you.

Drawing on the academic excellence of Weill Cornell Medical College and the outstanding clinical resources of NewYork-Presbyterian Hospital, the Department of Radiology at Weill Cornell is committed to providing superior imaging and interpretation services.

With the opening of Weill Cornell Imaging's flagship facility in the new Weill Greenberg Center and the redesign of three additional sites, referring physicians will find fast and easy access to diagnostic and screening procedures for their patients. One call to our new Scheduling and Service Center – staffed by friendly and knowledgeable service representatives-ensures a prompt appointment for patients at one of our beautifully appointed and comfortable locations.

Weill Cornell Imaging offers:

>> Comprehensive consultation with world-class radiologists with expertise in the full array of diagnostic radiology examinations
>> State-of-the art facilities featuring the most advanced imaging technology, managed by highly trained radiology technologists
>> Immediate access to patient's imaging results via PACS and the electronic medical records
>> Same-dau report turnaround
>> Participation in more than 15 health plans
A pioneer in the field of vascular interventional radiology, Dr. Robert Min is Radiologist-in-Chief at NewYork-Presbyterian Hospital/Weill Cornell Medical Center and Chairman of Radiology at Weill Cornell Medical College.
Dr. Min is developer of endovenous laser for treatment of venous insufficiency - when the leg's veins cannot effectively return blood to the heart. Now 10 years old, the minimally invasive technique is used by thousands of physicians around the world to treat a variety of conditions, including varicose veins. Dr. Min also developed transcatheter duplex-guided sclerotherapy, another minimally invasive method of treating venous insufficiency. Venous reflux is one of the country's most prevalent healthcare conditions, affecting tens of millions of people at a cost of billions of dollars. Despite causing symptoms including leg pain and medical problems such as skin ulceration, venous conditions are often poorly understood, misdiagnosed, and improperly treated. Dr. Min's career has focused on increasing awareness of venous conditions, bettering diagnoses, and modernizing and improving therapies. Under Dr. Min's direction, Weill Cornell Vascular has become an internationally recognized center for the management of venous reflux.
Dr. Min's other areas of clinical and research interests include non-invasive treatments of tumors. He has been Principal Investigator on studies evaluating Uterine Artery Embolization for treatment of symptomatic leiyomyomata and has developed NewYork-Presbyterian/Weill Cornell into one of the nation's leading centers offering relief for the many women who suffer from this condition. Most recently, Dr. Min's research focus has centered on MR Guided Focused Ultrasound (MRgFUS). Dr. Min is Principal Investigator on multiple studies investigating this exciting new non-invasive therapy including the country's first studies evaluating 3 Tesla MRgFUS treatment of Uterine Fibroids and a "Pivotal Study to Evaluate the Effectiveness and Safety of ExAblate of Metastatic Bone Tumors for Palliation of Pain in Patients Who Are Not Candidates for Radiation Therapy." He also serves as Co-Investigator in protocols evaluating "High Resolution MRI Studies of Prostate Tissue Specimens" and the "Feasibility of Transrectal MRgFUS for Prostate Cancer."
Dr. Min oversees more than 70 faculty in three different areas: Weill Cornell Vascular, which offers minimally invasive treatments for venous insufficiency, uterine fibroids, and evaluation of peripheral arterial disease; Weill Cornell Imaging at NewYork-Presbyterian, which provides state-of-the-art outpatient diagnostic services at four locations on the upper eastside of Manhattan; and Weill Cornell Radiology, which provides the full clinical spectrum of diagnostic radiology and image-guided interventions for inpatients, outpatients, and the emergency department at NewYork-Presbyterian/Weill Cornell Medical Center, in addition to a team of PhD investigators who lead the department's research efforts.
"I am committed to redefining the field of radiology and the role of radiologists. While new developments in technologies will certainly improve what we are able to do, the single most important factor is providing not only the best but complete care for our patients," says Dr. Min. "I believe that being more involved in patient care, beginning with initial evaluation and continuing through follow-up, will lead directly to better outcomes."
Dr. Min graduated from Weill Cornell Medical College in 1990 and received his M.B.A. from Columbia University in 2002. He completed an internship in surgery and a residency in diagnostic radiology at NewYork-Presbyterian/Weill Cornell, where he served as chief resident. He received additional subspecialty fellowship training in cardiovascular interventional radiology at Stanford University Medical Center, and was appointed to NewYork-Presbyterian/Weill Cornell in 1999.
Dr. Min is President of the American College of Phlebology, the largest medical society focused solely on venous conditions, with more than 2,000 members from 46 countries. He is also a founding member and serves as Vice-President of the American Board of Phlebology. Dr. Min is a Diplomate of the American Board of Radiology, a Fellow of the American College of Phlebology, a Fellow of the Society of Interventional Radiology, and a Member of the American Society of Laser Medicine, Radiological Society of North America, American College of Radiology, and other radiological and venous-related societies.
Dr. Min has authored or co-authored over fifty scientific articles, abstracts, and book chapters on venous disorders. He currently serves as a Reviewer for the Journal of Vascular Interventional Radiology, Radiology, American Journal of Roentgenology, European Journal of Vascular and Endovascular Surgery, Phlebology, Biomedical Engineering, Journal of Endovascular Therapy, Lasers in Surgery and Medicine, Cardiovascular and Interventional Radiology, Academic Radiology, and The Female Patient,and has been chosen for the Editorial Boards of Techniques in Vascular and Interventional Radiology and Phlebology. He served as an Item Writer for the Certification Examination in Phlebology, a major step in assuring that physicians involved in the diagnosis and treatment of venous disorders possess the necessary qualifications to provide safe, high quality care.
Dr. Min has been interviewed as an expert on venous disease and minimally invasive image-guided therapies by every major local and national television network (including the Today Show, Good Morning America and The Early Show), featured in countless publications (including The New York Times), and is an invited lecturer throughout the world haven given more than 150 presentations.