Peter Martin, M.D.
Hematology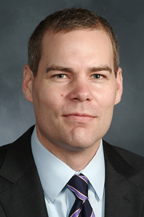 Our goal is to provide the best care possible for every patient. Although we havemade great strides in recent years, more improvement is needed. Therefore, we are working every day to develop better treatments and integrate them into clinical practice.

Our approach involves a comprehensive team of cancer-care specialists in which the patient is central. As a leader in that team, I strive to develop a treatment plan that is individualized to each patient's needs. I am fortunate to work in a center where we can offer a range of therapies, including chemotherapy, radiation therapy, antibody therapy, radioimmunotherapy, and stem cell transplantation. I believe that every patient shouldhave the opportunity to participate in a clinical trial, where they may benefit from new treatments and we all may benefit from medical progress.
Dr. Peter Martin is an Assistant Professor of Medicine in the Division of Hematology/Oncology at Weill Cornell Medical College. A graduate of University of Alberta Medical School, Dr. Martin completed his residency in internal medicine and fellowship in hematology at McGill University. Prior to joining the faculty at Weill Cornell Medical College, he completed a Master's Degree in Clinical Investigation and Translational Research at the Weill Cornell School of Graduate Sciences.
Dr. Martin specializes in caring for patients with lymphoma. His research focuses on the clinical investigation of new and promising therapies, and he passionately believes that clinical trials are the gateway to a better future. His primary interest is in the indolent lymphomas, including follicular lymphoma, mantle cell lymphoma, marginal zone lymphoma, chronic lymphocytic leukemia/small cell lymphoma, and lymphoplasmacytic lymphoma/Waldenstrom macroglobulinemia. In addition to being an investigator on clinical trials, Dr. Martin also focuses on patient outcomes research. He is the director of the Waterfall Waldenstrom's Macroglobulinemia Consortium and the Weill Cornell Lymphoma Database. He is a member of the American Society of Hematology, the American Society of Clinical Oncology, and the Alliance for Clinical Trials in Oncology (ACTION, formerly Cancer and Leukemia Group B (CALGB)). He is board certified in Hematology and Internal Medicine by the American Board of Internal Medicine and the Royal College of Physicians and Surgeons of Canada. He has received awards from the National Cancer Institute of Canada, the Leukemia and Lymphoma Society, the American Society of Hematology, and the American Society for Clinical Oncology for his research.