Patrick A. Flynn, M.D.
Pediatric Cardiology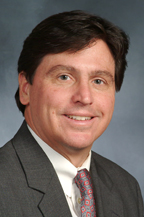 Named one of New York Magazine's Best Doctors, 2012


Welcome to the Division of Pediatric Cardiology at Weill Cornell Medical College.

We realize that any visit to a specialist with your child can be stressful. We will do everything we can to serve you promptly, thoroughly, and with the thoughtfulness and compassion that your child deserves.

I joined the staff here at the Komansky Center for Children's Health at NewYork-Presbyterian Hospital/Weill Cornell Medical Center (then The New York Hospital and Cornell Medical College) immediately after graduating from medical school in 1986, and have never left. I found myself surrounded by wonderful colleagues, a terrific staff, world-class surgical, cardiac cathetherization, emergency and intensive care support, all in a hospital environment that allows me to care for all patients in a manner that is exactly what I had in mind when I first imagined being a Doctor at age 4. I've never seen any reason to go anyplace else. I'll retire here.

As a parent, I understand the anxiety that accompanies any doctor visit, especially one for subspecialty evaluation of a potential problem. I know that where a child's care is concerned, there are no bad questions and no trivial worries. Feel free to ask away. I'll finish explaining some time after you're tired of listening. Don't feel that you should leave until you are confident that you understand your child's condition -- even if, as is often the case, that condition is perfect cardiac health and that your questions and concerns have been addressed.

If you would like to schedule a consultation, please contact my assistant, Trang Nguyen, at 212-746-3561.
Dr. Flynn is an Associate Professor of Clinical Pediatrics at Weill Cornell Medical College and Associate Attending Pediatrician at NewYork-Presbyterian Hospital/Weill Cornell Medical Center. He graduated as class valedictorian from Villanova University in 1982, receiving the Leonardo da Vinci Award for excellence in science and the humanities. He received his medical degree from the University of Maryland School of Medicine. He completed his internship and residency at the New York Hospital-Cornell University Medical College, serving as Chief Resident in Pediatrics in 1989-90. His fellowship was performed in Pediatric Cardiology at the New York Hospital-Cornell University Medical College.
Dr. Flynn has been active in the teaching of medical students, residents and fellows throughout his career at Weill Cornell. He served as the Director of the General Pediatrics Residency Program from 1996-2000 and as Clerkship Director of the Pediatrics Subinternship from 1996-2008.
Dr. Flynn was elected to the Cornell chapter of the Alpha Omega Alpha Medical Honor Society in 1998. He has been elected by graduating medical students to the Senior List on three occasions. He received the Outstanding Teacher Award from the Pediatric Housestaff in 1996 and the Excellence in Teaching Award from Weill Cornell in 2000.
Dr. Flynn was named to the Castle Connolly List of Top Doctors in the New York Metropolitan Area for 2008, 2009, 2010, and 2011. He was selected by New York Magazine as one of New York's Top Doctors in 2012.

Dr. Flynn serves Weill Cornell Medical College as the Vice-Chair of the General Faculty Council. He is also an at-large officer of the Pediatric Cardiology Society of Greater New York.

Dr. Flynn has participated in numerous international humanitarian medical missions aimed at performing and teaching the medical and surgical care of congenital heart disease in the developing world. These include: Healing the Children Guatemala Heart Mission, 1995; Surgeons of Hope mission to Fann Medical Center in Dakar, Senegal, 2007; Children's HeartLink missions to Jilin Heart Hospital in Changchun, China in 2008 and 2009, and the Post-Graduate Institute for Medical Education and Research in Chandigarh, India, in 2012. He is also participating in the development of the Sidra Medical and Research Center, which will be the major teaching affiliate of the Weill Cornell Medical College in Qatar.
Dr. Flynn is married to Dr. Shari Platt, Director of Pediatric Emergency Medicine at Weill Cornell. They have two sons who attend the Trinity School and Windward School. Dr. Flynn serves on the Board of Trustees of the Town School. He has served as the chaiman of the Parents Diversity Committee at Town and currently serves as Chair of the Board Diversity Committee. Dr. Flynn is active in youth sports, coaching baseball and basketball with the Yorkville Youth Athletic Association.