Patrick J. Stuebgen, M.B.,Ch.B., M.D.
Neurology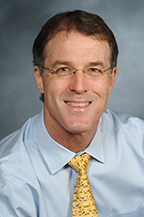 Patrick Stubgen, MD received his medical degree from The University of Pretoria, South Africa. He completed a neurology internship at Grey's Hospital (Pietermaritzburg, Natal, South Africa and completed his residency training in neurology at The New York Hospital. He is certified by The American Board of Psychiatry and Neurology. Dr. Stubgen is in charge of covering serious Neurology cases that enter the various intensive care units in New York Hospital. His particular interest lies in the area of Neuromuscular Diseases.

What is neuropathy?
Neuropathy is a disorder which affects the nerves in the body. Nerves are electrical cableswhich transmit information from the body to the brain and from the brain to the body. They are present throughout the body.When nerves are not functioning normally, for whatever reason, the condition is referred to as neuropathy or peripheral neuropathy.Symptoms of peripheral neuropathy include weakness, muscle cramps, muscle twitching, pain, numbness of the feet or hands,burning, and tingling. These symptoms are usually present in the feet or hands but may occur anywhere in the body.

What is myopathy?
Myopathy is the term used to describe disease of muscle. Causes may include hereditary conditions such as muscular dystrophy, hormonal (endocrine) abnormalities such as hypothyroidism, or inflammatory conditionssuch as polymyositis. Symptoms of myopathy usually include weakness and may result in difficulty walking, standing, holdingthings, chewing, swallowing, or even talking.