O. Wayne Isom, M.D.
Cardiothoracic Surgery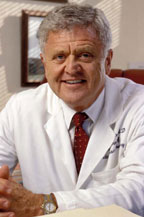 Ours is truly an outstanding staff. The physicians, anesthesiologists, cardiologists, nurses and administrative staff are some of the most capable people in the country, and they are right here at Weill Cornell Medical Center. The quality of our care is the result of a team effort. I am not only speaking of the surgical team, I mean everyone--from the doctors to the people who clean the operating rooms. Being the best means taking pride in what you do, caring a little more and going a little further--everyone here does, and its evidence is in our results.
Dr. O. Wayne Isom is the Terry Allen Kramer Professor of Cardiothoracic Surgery and the Chairman of the Department of Cardiothoracic Surgery at New York Presbyterian-Weill Cornell Medical Center.
Following his undergraduate studies at Texas Tech, Dr. Isom earned his medical degree at the University of Texas Southwestern Medical School in 1965. He then went on to finish a medical internship and general surgery residency at Parkland Hospital in Dallas; in 1970, he completed a cardiothoracic residency at New York University Medical Center. Dr. Isom joined the faculty at NYU School of Medicine, and, in 1978, he became Professor of Surgery and Director of the Cardiothoracic Training Program, a position he held for the next seven years.
In 1985, Dr. Isom was recruited to the New York-Cornell Medical Center (before The New York Hospital and Presbyterian Hospital merged to become New York Presbyterian Hospital) and assumed the Chairmanship of the Department of Cardiothoracic Surgery. Under his supervision, the Cardiothoracic surgeons at New York Presbyterian-Weill Cornell Medical Center have performed over 20,000 open-heart procedures, with results ranking the center as one of the best in the country.
Over his 30-year career, Dr. Isom has been responsible for teaching third year medical students, as well as general surgery house staff. He has also been instrumental in training over 50 cardiothoracic surgeons who are now either practicing or teaching throughout the country. The medical students at New York Presbyterian-Weill Cornell Medical Center have honored Dr. Isom in the past with the Cornell Medical College Third Year Teaching Award.
As a noted professor and speaker, Dr. Isom has authored over 100 journal articles and over 20 book chapters dealing with cardiac and thoracic surgery. Currently, he and his colleagues are investigating the application of gene therapy in cardiac patients too weak to endure traditional coronary artery bypass surgery (the inserted gene will stimulate the heart to grow new blood vessels), as well as transmyocardial revascularization and robotic surgical techniques.
Dr. Isom is a member of numerous medical and surgical societies, including the American Association for Thoracic Surgery and the American College of Surgeons. He has been a Board Member of the American Heart Association in New York City for many years and has been honored with their distinguished Bugher Foundation Award for Achievement in Cardiovascular Science and Medicine. In December of 2000, the National Marfan Foundation granted him the Hero With A Heart Award; the Larry King Cardiac Foundation, along with the NYSAE Education Research Foundation, recently bestowed him with their First Annual Humanitarian Award.
Dr. Isom is the father of five children and currently resides in Manhattan with his wife, Pat, and their two children, Jack and Catherine.