Nathan M. Radcliffe, M.D.
Ophthalmology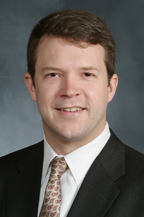 I am an ophthalmologist specializing in the care of patients with glaucoma. Myprimary goal is not only to provide state of the art medical and surgical glaucoma care, but also to help guide my patientsthrough the difficult and often confusing process of understanding glaucoma. A diagnosis of glaucoma, possible glaucoma, oreven worsening glaucoma can be very anxiety provoking for patients, however I believe that by allowing my patients to understandtheir glaucoma process, most of the anxiety can be relieved. Furthermore, we can make decisions together that take into accounteach patient's lifestyle and needs. Conditions that I commonly treat include:

Glaucoma

Glaucoma Suspect
Narrow Angle
Angle Closure Glaucoma

Open AngleGlaucoma
Low Tension Glaucoma
Cataract
Nathan Radcliffe, M.D. is an ophthalmologist who specializes in medical and surgical glaucoma. Dr. Radcliffe grew up in the state of Maine and completed his undergraduate studies at Colby College in Waterville, Maine. He graduated with honors from Temple University School of Medicine in 2003 and then completed his internship at the University of Hawaii in Honolulu in 2004. He completed his ophthalmology residency at New York University and Manhattan Eye, Ear and Throat Hospital and received fellowship training in glaucoma at the New York Eye and Ear Infirmary.
Dr. Radcliffe has distinguished himself at every level of his training. During medical school, he was elected to the Alpha Omega Alpha honors medical society. During his internship in Hawaii, he was awarded the "Transitional Resident of the Year" award. He went on to become chief resident at New York University and even served as the Chief Fellow during his glaucoma fellowship at the New York Eye and Ear Infirmary and New York University.
Dr. Radcliffe is a dedicated teacher and researcher who is involved in numerous research projects related to the care of glaucoma patients. He has published articles and book chapters that span the literature from ophthalmic text books and scientific journals to patient education materials. Dr. Radcliffe's research efforts have earned him grants from the National Eye Institute and The American Society of Cataract and Refractive Surgery.
In July of 2008, Dr. Radcliffe joined the faculty of Weill Cornell Medical College and New York Hospital as Assistant Professor of Ophthalmology, where he cares for patients with glaucoma and other eye diseases. He lives in New York City with his wife Lauren and children Jane and Henry. Dr. Radcliffe is currently accepting new patients, appointments can be made by calling 646-962-2020.