Myhanh Theresa Nguyen, N.P.
Psychiatry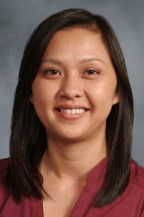 M. Theresa Nguyen, PMHNP, is the current program coordinator of the Payne Whitney Women's Program, which provides evaluations and treatment for women with reproductive-related psychiatric conditions. She holds a dual appointment as a Staff Research Associate at Weill Cornell Medical College and as a psychiatric mental health nurse practitioner (PMHNP) at New York Presbyterian Hospital- Weill Cornell Medical Center.
Ms. Nguyen has been a Psychiatric Mental Health Nurse Practitioner (PMHNP) in the Women's Program since 2007. PMHNPs diagnose, conduct therapy, and prescribe medications for patients with psychiatric illness. They are licensed to provide emergency psychiatric services, psychosocial and physical assessment of their patients, treatment plans, and manage patient care. They may also serve as consultants or as educators for families and staff.
Ms. Nguyen's clinical interests include but are not limited to:
· Postpartum Depression
· Premenstrual Dysphoric Disorder
· Pre-pregnancy Psychiatric Illness Consultation
· Management of Psychiatric Issues During Pregnancy
· Transitions to Motherhood
· Pregnancy Loss
Ms. Nguyen is the first and sole PMHNP in the Weill Cornell Physician's Organization. She was a recipient of the 2010 Columbia University School of Nursing's Distinguished Young Alumna Award and a recipient of a 2010 Weill Cornell Medical College Clinical and Translational Science Center Community Engagement Grant for a project entitled "Barriers to Mental Health Research Participation in Urban Ethnic Minority Women".


To schedule a consultation please call 212-746-4850.