Michael D. Kluger, M.D.
Surgery, Transplant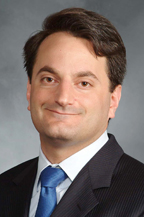 Michael Kluger, MD, MPH is board-certified in general surgery and specialty trained in hepatobiliary surgery and liver transplantation. His expertise lies in primary and metastatic liver cancer and liver transplantation. He is highly skilled in minimally invasive procedures, and serves as an Assistant Professor of Surgery at Weill Cornell Medical College and an Assistant Attending Surgeon at NewYork-Presbyterian/Weill Cornell Medical Center. To view a video profile of Dr. Kluger, click here:
www.youtube.com/watch
Dr. Kluger graduated from the New York University School of Medicine, where he was elected to the Alpha Omega Alpha medical honor society and received awards for bioethics and community service. He completed his surgical residency at NYPH-Columbia University Medical Center. There he was selected to be the Administrative Chief Resident and won the Gold Foundation Humanism and Excellence in Teaching Award.
He received advanced training in liver transplantation and hepatobiliary surgery as a fellow at Hospital Henri Mondor in Creteil, France under the world-renowned surgeon Professor Daniel Cherqui. Prior to medical school, he was a research associate at the New York Academy of Medicine, and received a Master of Public Health from Yale University.
Dr. Kluger has published in peer-reviewed professional journals and presented at major scientific conferences. Clinical interests include liver transplantation, laparoscopic liver resection, resection of primary and metastatic liver tumors, and multi-stage resection of complex liver lesions. Dr. Kluger's current research involves the role of laparoscopic surgical techniques in liver surgery, hepatocellular carcinoma, liver metastases, and policy issues regarding liver donation and organ supply. He is a Fellow of the American College of Surgeons, and a member of several prestigious professional organizations, including the American Society of Transplant Surgeons, the Society of Surgical Oncology and the Society for Surgery of the Alimentary Tract.
He also sits on the American College of Surgeon's Committee on Medical Student Education, and is Associate Director of the Medical Student Surgical Clerkship at Weill Cornell Medical College.