Maryam Jowza, M.D.
Pain Medicine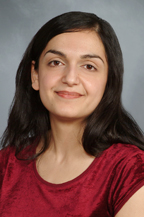 Dr. Jowza is board certified in Anesthesiology with specialty training in Pain Medicine. She specializes in treating patients with back, neck, and other severe pain disorders. Dr. Jowza appreciates that pain is a unique individual experience and strives to work with patients and their physicians to identify the source of pain and tailor a personalized treatment plan.
Dr. Jowza's practice philosophy is to improve functionality and allow patients to resume an active lifestyle. Her recommendations are based on the latest evidence based advances in pain medicine. This may include injections and other minimally invasive procedures, physical and occupational therapy, complementary holistic treatments, relaxation strategies or medications.
Dr. Jowza completed her residency in Anesthesiology as well as fellowship in Pain Management at Massachusetts General Hospital, Harvard Medical School in Boston, MA.