Maria M. Shevchuk, M.D.
Anatomic Pathology and Clinical Pathology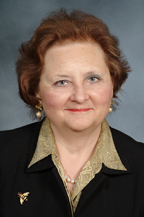 Diagnostic surgical pathology is critical to proper patient care. The choice of treatment, be it observation, surgery, chemotherapy, radiotherapy, drug treatment or other, is dependent on a precise and accurate diagnosis. In this respect, one might say, that the best clinicians rest on the shoulders of pathologists. I am acutely aware that with each "case", I am taking care of an individual patient, although I will probably never encounter him/her. This approach is also part of teaching of our pathology residents and fellows.

Pathologists also fulfill an important role in academia. We form the bridge between basic research and medical care, because we are conversant with both.
Maria Shevchuk, MD, FCAP is Associate Professor of Pathology and Laboratory Medicine at Weill Cornell Medical College and Associate Attending Pathologist at New York Presbyterian Hospital. She is the genitourinary pathology expert in the pathology department, who began the separate genitourinary pathology diagnostic service at Weill Cornell/NYH. She received her MD degree from SUNY Upstate Medical College, followed by internship and residency in pathology at Columbia/Presbyterian in New York. Her surgical pathology training was with Dr. Rafael Lattes, followed by a Fellowship in Gynecological Pathology with Dr. Ralph Richart, and a second Fellowshiip in Urologic Pathology with Dr. Myron Tannenbaum and Dr. Meyer Melicow, all at Columbia/Presbyterian. She has practiced surgical pathology, specializing in gynecological and urological pathology for 35 years. During that time, she has published numerous papers in peer-reviewed journals. Her research has included studies on ovarian and endometrial pathology, endometriosis, HIV in the male genital tract, and prostate, kidney, and bladder cancer, among others. She is an invited speaker at many national and international conferences, has participated at international consensus conferences and is a guest reviewer for several pathology and urology journals. Dr. Shevchuk is a member of local, national and international pathology societies, in which she has held various positions. Currently she is the first chair of a newly formed College of American Pathologists' In Vivo Microscopy Work Group.