Marc Goldstein, M.D.
Urology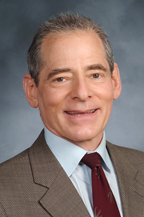 View Dr. Goldstein's Video Introduction here

Marc Goldstein, M.D. F.A.C.S is the Matthew P Hardy Distinguished Professor of Reproductive Medicine, and Urology at Weill Medical College of Cornell University, Surgeon-in-Chief, Male Reproductive Medicine and Surgery and Director of the Center for Male Reproductive Medicine and Microsurgery at the New York Presbyterian Hospital-Weill Cornell Medical College of Cornell University. He is Senior Scientist with the Population Council's Center for Biomedical Research, located on the campus of Rockefeller University.

Dr. Goldstein is the only male infertility specialist cited in the American Health Magazine special issue on the THE BEST DOCTORS IN AMERICA. He is listed in New York Magazine's BEST DOCTORS IN NEW YORK every year since it's inception. He is listed in the books, BEST DOCTORS IN AMERICA, the Castle Connolly Guide AMERICA'S TOP DOCTORS as well as WHO'S WHO IN AMERICA. He is a board certified urologic surgeon and member of a dozen national and international medical societies dealing with male infertility and reproduction. He is Past-President of the Society for Male Reproduction and Urology of the American Society for Reproductive Medicine, and recipient of the 1997 MASTER TEACHER IN UROLOGY AWARD, and the 2002 DISTINGUISHED ALUMNI ACHIEVEMENT AWARD from his alma mater. He has been honored by RESOLVE and the American Infertility Association (1999) for OUTSTANDING DEDICATION AND COMMITMENT TO FAMILY BUILDING. He is the recipient of the 2002 JOHN KINGSLEY LATTIMER AWARD IN UROLOGY from the Kidney and Urology Foundation of America and the LIFETIME ACHIEVEMENT AWARD of the American Fertility Association. He received an honorary DOCTOR OF SCIENCE in 2008 from the State University of New York, Downstate Medical Center and in 2009 received the JOHN COLEMAN , M.D. TEACHING AWARD of the Department of Urology at Weill Cornell Medical College.

Dr. Goldstein is internationally known for his pioneering work in vasectomy reversals and microsurgical repair of varicoceles and blockages. He has performed over 1,200 microsurgical vaso-vasostomies and vaso-epididymostomies. His technique of microsurgical vasectomy reversal, as published in peer reviewed journals, yields the highest reported sperm return and pregnancy rates. He developed a microsurgical technique of varicocelectomy in 1984 and has performed over 3,000 cases with the lowest reported failure and complication rates. He was the first American surgeon to be trained in, and perform, the Chinese method of No-Scalpel Vasectomy in 1985 and recently introduced the No-Needle, No-Scalpel Vasectomy technique to the Northeast.

Dr. Goldstein has authored or co-authored over 250 journal articles and book chapters. He is the author of SURGERY OF MALE INFERTILITY (1995), the first textbook on the subject and co-editor of the upcoming SURGICAL AND MEDICAL MANAGEMENT OF MALE INFERTILITY (Cambridge U. Press, 2011). He has authored the chapter SURGERY OF MALE INFERTILITY in the last four editions of the major textbook, Campbell's Urology. He is co-author of THE COUPLES GUIDE TO FERTILITY (Broadway/Random House 2001 3rd edition), A BABY AT LAST (Simon and Schuster, 2010) and THE VASECTOMY BOOK (Houghton Mifflin). He is also on the editorial board of the medical journal MICROSURGERY.

He has been featured in interviews on numerous major media outlets including NBC's TODAY SHOW, ABC's GOOD MORNING AMERICA and EYEWITNESS NEWS, NEWSWEEK and THE NEW YORK TIMES.

A SUMMA CUM LAUDE graduate of the College of Medicine, State University of New York-Downstate Medical Center in Brooklyn, New York, Dr. Goldstein worked as a resident in general surgery at Columbia Presbyterian Hospital in New York. After three years overseas in the US Air Force, attaining the rank of Major and flying in F4 Phantom aircraft as a Flight Surgeon, Dr. Goldstein was trained in urology at Downstate Medical Center. He continued his postgraduate training in reproductive physiology at the Population Council, Center for Biomedical Research, located on the campus of Rockefeller University, and at the Rockefeller University Hospital.

Dr. Goldstein is a long distance runner and triathlete who races regularly and has completed 20 New York City Marathons and 8 triathlons. Dr. Goldstein's office address is: Cornell Institute for Reproductive Medicine, Box 580, 525 E 68th Street, New York, NY 10021. The telephone number to make an appointment is (212) 746-5470. The fax number is (212) 746-0977. His web site is www.maleinfertility.org. His email address is: mgoldst@med.cornell.edu.
View Dr. Goldstein's Video Introduction here
Education
1968 B.S. cum laude, City University of New York, Brooklyn College, Brooklyn N.Y.
1972 M.D. summa cum laude, State University of New York, Downstate Medical Center, Brooklyn, N.Y.
Professional Appointments 1972-1973 Surgical Intern, The Columbia-Presbyterian Medical Center, New York, N.Y. 1973-1974 Surgical Resident, The Columbia-Presbyterian Medical Center, New York, N.Y. 1974-1976 Captain, United States Air Force, Medical Corps, Flight Surgeon 1976-1977 Major, United States Air Force, Medical Corps, Flight Surgeon 1977-1980 Assistant Instructor, Resident, and Chief Resident, Department of Urology, State University of New York, Downstate Medical Center, Brooklyn, N.Y. 1980-1982 Assistant Professor of Urology, Department of Urology, SUNY Downstate Medical Center, Brooklyn, N.Y. 1980-1982 Assistant Attending Surgeon, University Hospital, SUNY Downstate Medical Center and Kings County Hospital Center, Brooklyn, N.Y. 1980-1982 Fellow-in-Residence, The Population Council, The Rockefeller University, New York, N.Y. 1980-1983 Research Associate, The Rockefeller University, New York, N.Y. 1980-1986 Associate Physician, The Rockefeller University Hospital, New York, N.Y. 1986-1987 Visiting Associate Physician, The Rockefeller University Hospital, New York, N.Y. 1982-1988 Assistant Attending Surgeon (Urology) The New York Hospital, New York, N.Y. 1982-1988 Assistant Professor of Surgery (Urology) Cornell University Medical College, New York, N.Y. 1982-2003 Staff Scientist, The Population Council, Center for Biomedical Research, New York, N.Y. 1982-1993 Director, The Male Reproduction and Microsurgery Unit, Department of Surgery, Division of Urology, The New York Hospital-Cornell Medical Center, New York, N.Y. 1988-1993 Associate Attending Surgeon (Urology) The New York Hospital, New York, N.Y. 1988-1993 Associate Professor of Surgery (Urology) Cornell University Medical College, New York, N.Y. 1990-1993 Associate Professor of Surgery (Urology) with indefinite tenure, Cornell University Medical College, New York, NY 1993- Director, Division of Male Reproductive Medicine and Microsurgery, Department of Urology, The New York Hospital-Cornell Medical Center, New York, N.Y. 1993-1994 Associate Attending Urologist, The New York Hospital, New York, N.Y. 1993-1994 Associate Professor of Urology with indefinite tenure, Cornell University Medical College, New York, N.Y. 1994- Professor of Urology with indefinite tenure, Cornell University Medical College, New York, N.Y. 1994- Attending Urologist, The New York Hospital, New York, N.Y. 2000- Professor of Reproductive Medicine, Professor of Urology, Executive Director, Men#146;s Service Center, Cornell Institute for Reproductive Medicine, Weill Medical College, Cornell University, New York, NY. 2000- Surgeon-in-Chief, Male Reproductive Medicine and Surgery, New York Weill-Cornell Medical Center, New York, NY. 2004- Senior Scientist, The Population Council, Center for Biomedical Research, New York, N.Y. Boards and Fellowships 1973 Diplomate of the National Board of Medical Examiners 1982 Diplomate of the American Board of Urology 1985 Fellow of the American College of Surgeons Professional Memberships Alpha Omega Alpha Honor Medical Society American Society of Andrology International Microsurgical Society American Society of Reproductive Medicine American Medical Association New York County Medical Society American Urological Association Society for the Study of Reproduction Society of Reproductive Surgeons Society for the Study of Male Reproduction Society for Male Reproduction and Urology