Yue Lynn Wang, Ph.D., M.D.
Anatomic Pathology and Clinical Pathology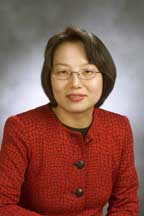 Y. Lynn Wang, MD, PhD, is an associate professor and an associate attending pathologist at Weill Cornell Medical College and New York-Presbyterian Hospital in New York City, United States. Dr. Wang serves as the Director of Molecular Hematopathology Laboratory at Weill Cornell that provides eleven molecular tests to the Heme/Onc physicians and hematopathologists. Additionally, Dr. Wang directs a basic research laboratory working on aberrant signal transduction pathways in lymphoma and leukemia. Her research aims at understanding molecular pathogenesis of hematologic malignancies and utilizing such information for diagnosis, disease monitoring, therapeutic intervention and therapeutic response prediction.& Her group has& been actively publishing in these areas (See Publications).
Dr. Wang has been involved in a number of extramural scholastic activities. She is an elected officer of the& Association for Molecular Pathology. She is a member of the International BCR-ABL RQ-PCR standardization group contributing experimental evidence leading to clinical practice recommendations. She is also a participant in the Molecular Oncology Reference Materials project (GeT-RM project) sponsored by Centers for Disease Control and Prevention. She reviews manuscripts for several professional journals
Dr. Wang received her MD from Beijing Medical University in China (conferred to a US MD degree in 2002) and her PhD from Brandeis University. She conducted her Clinical Pathology Residency, Clinical Molecular Pathology Fellowship and postdoctoral research at the University of Pennsylvania. She is board-certified in Clinical Pathology and Molecular Genetic Pathology. Dr. Wang is a member of Association for Molecular Pathology, American Society of Hematology, College of American Pathologists, and American Society for Investigative Pathology.