Lilian L. Cohen, M.D.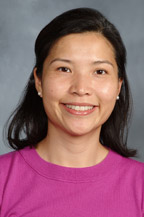 Medical genetic evaluations and personalized genetic testing are powerful tools as gene discovery and medical technologies continue to advance at an rapid pace. My goal is to offer my patients the best care, help families and physicians access the most state of the art testing, as well as provide guidance for treatment and preventative health using a multidisciplinary approach. Our geneticists and counselors provide expertise and support for individuals concerned about genetic screening/testing, prenatal counseling, or risk assessments due to family history or ethnic ancestry.

I have the privilege to provide comprehensive clinical genetic evaluations and lifelong care for children and adults at risk for genetic disorders. With my pediatrics background, I help families and referring physicians assess if differences that are noted prenatally, at birth, or during childhood may affect growth and development, as well as identify the causes which could lead to later problems with health, learning, and/or social interaction. All too often, patients are treated by multiple specialists without a clear explanation about the cause of their issues. As a parent, I want to help find answers for those undergoing a stressful diagnostic odyssey and obtain coordinated quality care to meet your child or family's unique needs.
Lilian L. Cohen, M.D., M.P.H. is an Assistant Professor in Pediatrics at Weill Cornell Medical College and Assistant Attending Pediatrician in the Department of Pediatrics at NewYork-Presbyterian Phyllis and David Komansky Center for Children's Health/Weill Cornell Medical Center. She is board-certified in pediatrics.
Dr. Cohen completed her undergraduate studies at Columbia College in New York. Dr. Cohen then attended medical training at the University of North Carolina in Chapel Hill, where she earned her Medical Degree (M.D.) and a Master's in Public Health (M.P.H.). She completed residency in Pediatrics at NewYork-Presbyterian Hospital/Weill Cornell Medical Center and continued further training in Medical Genetics at Albert Einstein College of Medicine and The Children's Hospital at Montefiore .
Her clinical interests include dysmorphology, craniofacial disorders, reproductive medicine, and a wide range of pediatric issues related to growth and neurodevelopment. Dr. Cohen also specializes in care for children and adult patients with known or probable cardiogenetic syndromes (i.e. 22q11 deletion, Down, Marfan, Williams Syndrome) or conditions which involve the heart (congenital heart defects, hypertrophic cardiomyopathy, family history of sudden death).
Her past research has included end-of-life care, medical ethics, translational medicine utilizing genetic and genomic approaches, and genetic testing in minors or young adults. In addition to clinical work, Dr. Cohen is actively involved in the teaching of medical students, residents and fellows from pediatrics, obstetrics, pathology, as well as graduate students in genetic counseling.