Linnie Maria Golightly, M.D.
Infectious Disease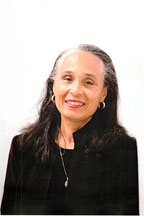 I first became fascinated by infectious diseases as a second year medical student in what was then the Cornell University Medical College. The Ben Kean course in parasitology introduced me to organisms which cause the majority of morbidity and mortality on the planet yet are infrequently seen in the US. The course started me on a journey, which led me to rural Brazil and Haiti, Harlem and Boston before returning here, as a faculty member to start my own research laboratory. True to my initial calling, the laboratory has focused on emerging infections such as malaria and dengue, which disproportionately affect those in resource poor countries. A major focus of my career has also been the fostering of a new generation of physician-scientists. The lab has been host to students and fellows from the US as well as abroad and I serve as Director of our Infectious Disease Fellowship Training Program. In addition, I consider it a true privilege to now be Director of the Ben Kean course in parasitology, which spawned my own career.
Dr. Golightly received her BA degree in Biology from Wayne State University and her MD degree from Cornell University Medical College. She subsequently trained in Internal Medicine at Harlem Hospital where she also served as Chief Resident. She obtained her Infectious Disease training at the Harvard Combined Infectious Disease Training Program (Beth Israel Hospital, Brigham & Women's Hospital, and Dana-Farber Cancer Institute) and post-doctoral research training in molecular parasitology at the Harvard School of Public Health. Dr. Golightly served as a medical attending and infectious disease specialist at the Beth Israel Hospital while on the faculty of Harvard Medical School. She subsequently returned to New York and established a research laboratory at the Weill Medical College. Dr. Golightly is active in training the next generation of physician-scientists. She is the program director for the Infectious Disease Fellowship Training Program, Director of the second year medical student Basis of Disease (BOD) course in Infectious Diseases and the Ben Kean Course in Tropical Medicine. She is a member of the International Committee which provides oversight for international electives. She also attends on the infectious Disease consult service as well as at the International Health Care Service of Weill Medical College.