Jeffrey P. Greenfield, M.D., Ph.D.
Pediatric Neurological Surgery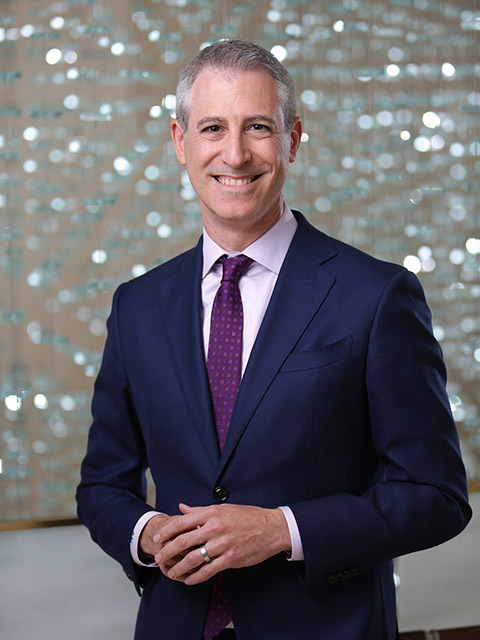 Jeffrey Greenfield, MD, PhD is a pediatric neurosurgeon at NewYork Presbyterian-Hospital and Weill Cornell Medical College. Dr. Greenfield, a native New Yorker, graduated from Amherst College Magna Cum Laude in Neuroscience before receiving his M.D. and Ph.D. degrees from the Weill Medical College and Graduate School of Medical Sciences. His laboratory mentor during his PhD was Paul Greengard at The Rockefeller University, who won the Nobel Prize for Medicine in 2000. He completed his Neurosurgery residency at The NewYork-Presbyterian Hospital/Weill Cornell Medical Center and Memorial Sloan Kettering Cancer Center. During residency he was awarded a scientific fellowship with Howard Hughes Scientist Shahin Rafii in Stem Cell Biology at the Ansary Center for Stem Cell Therapeutics.
Following residency he completed his fellowship in pediatric neurosurgery at the Children's Hospital of Philadelphia, one of North America's premier fellowship programs. By the completion of training, he had performed over 2500 neurosurgical procedures at three of the best cancer facilities in the world: Memorial Sloan Kettering Cancer Center, NewYork-Presbyterian Hospital and The Children's Hospital of Philadelphia.
Dr. Greenfield brings a unique mixture of scientific curiosity and clinical acumen to his position at Cornell. Expansion of several clinical programs, including pediatric epilepsy surgery, functional neurosurgery, spine surgery and skull base tumor surgery, have already been initiated under his direction. His basic science laboratory is studying the cellular mechanisms driving the transformation of low-grade astrocytomas, the most common benign brain tumor in children into more malignant tumors. Specifically he is looking at the events that stimulate neo-angiogenesis or new blood supply to the tumors with the intention being to design novel therapies to keep tumors in a benign state indefinitely.
~~~
Dr. Greenfield sees patients at three offices:
520 East 70th Street (east of York Avenue)
Starr Pavillion, Room 651
New York, NY 10065
and:
1305 York Avenue (at 70th Street)
Brain and Spine Center, 9th Floor
New York, NY 10065
and:
244 Westchester Avenue
White Plains, NY 10604
Please confirm the location of your appointment with your patient coordinator.
~~~
Find out more about:
The Weill Cornell Pediatric Brain and Spine Center
The Children's Brain Tumor Project