Joseph P. Mele, M.D.
Internal Medicine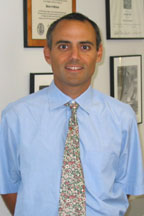 I strive to deliver comprehensive general medical care focusing on lifestyle modifications, screening tests and therapieswhich have been shown through scientific trials to provide benefit for patients.
Dr. Joseph Mele graduated from Yale College and received his medical degree from the Columbia College of Physicians & Surgeons in 1989. He completed his training in Internal Medicine at Columbia
Presbyterian Medical Center in 1992. Dr. Mele joined the Weill Cornell Internal Medicine Associates practice in 1993.