Joanna M. Bird, M.D.
Psychiatry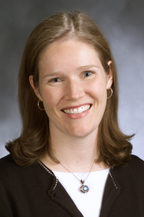 Dr. Bird is the Sackler Fellow in mother-infant psychiatry at Payne Whitney Manhattan. Her professional interests include psychotherapeutic and pharmacologic treatment of psychiatric disorders of children, adolescents and adults.
Dr. Joanna Bird received her undergraduate degree with honors from Smith College and earned her medical degree from the George Washington University School of Medicine. Dr. Bird completed her general psychiatry residency training at NewYork-Presbyterian Hospital/Weill Cornell Medical Center, Payne Whitney Manhattan. She also completed the NewYork-Presbyterian Hospital Child and Adolescent Psychiatry Residency of Columbia and Cornell Universities, where she was the recipient of the Edward J. Sachar Award for clinical excellence.
Dr. Bird is available for diagnostic consultation, psychotherapy and psychopharmacologic treatment.