Julie B. Penzner, M.D.
Psychiatry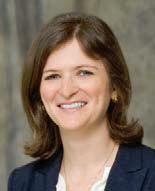 Dr. Julie Penzner's interests include the evaluation and treatment of mood and psychotic disorders and the intersection of psychotherapy and psychopharmacology, particularly in the acute inpatient setting. She is an attending psychiatrist at New York-Presbyterian Hospital and an Assistant Clinical Professor of Psychiatry at Weill Cornell Medical College. She has particular expertise in working with patients and their families during times of crisis.

Dr. Penzner is a magna cum laude graduate of Harvard College. She completed her medical training at the Albert Einstein College of Medicine where she was elected to the Alpha Omega Alpha medical honor society and graduated with an MD with special distinction in research in psychiatry. She completed her psychiatric residency at New York-Presbyterian Hospital/Payne Whitney Clinic. During residency, she was selected as a Laughlin Fellow of the American College of Psychiatrists. She was co-chief resident in her final year of training. Prior to employment on the Cornell faculty, Dr. Penzner was Assistant Clinical Professor of Psychiatry at Columbia University and the Associate Director of Psychiatry in the Milstein Pavilion. She was selected as a Physician of the Year by the Columbia Department of Nursing in 2011.