Eduardo M. Perelstein, M.D.
Pediatric Nephrology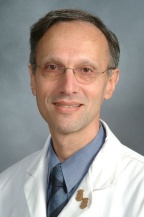 Voted one of Woodward/White's Best Doctors in America: Northeast Region, 2007-2008.
Dr. Eduardo M. Perelstein is Associate Attending Pediatrician at NewYork-Presbyterian Hospital and Associate Professor of Clinical Pediatrics at Weill Cornell Medical College. He has more than twenty years experience in the diagnosis and management of children with all kinds of kidney diseases, including end-stage kidney disease requiring dialysis or kidney transplantation. In addition, he also cares for children with high blood pressure, as well as fluid/electrolyte disorders. His board certifications are in Pediatrics and Pediatric Nephrology.

His research interests involve mechanisms of progression of kidney disease and probable prevention of progression with different medications; evaluation of renal functional reserve in different glomerulopathies and in offspring of hypertensive parents; treatment of steriod-responsive nephrotic-syndrome; management of anemia in chronic kidney disease; and novel therapy for hemolytic-uremic syndrome and membranoproliferative glomerulenephritis.

Dr. Perelstein received his M.D. at the University of Buenos Aires Faculty of Medicine in Buenos Aires, Argentina, where he also completed his residency in pediatrics. He continued his training in pediatric nephrology at Saint Christopher's Hospital for Children in Philadelphia, Pennsylvania, where he completed a clinical fellowship.