Donna Therese Anthony, Ph.D., M.D.
Psychiatry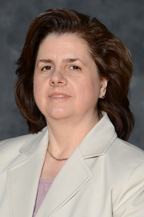 Donna Anthony, PhD, MD maintains a private practice in General Adult Psychiatry, specializing in the Psychopharmacology of Affective and Psychotic Disorders as well as combined Psychotherapy and Psychopharmacology.
Dr. Donna Anthony received her M.D. from Weill Cornell Medical College and a Ph.D. in Developmental Neurobiology from Rockefeller University. She completed her residence in Psychiatry as well as the Schizophrenia Research Fellowship at Columbia Presbyterian Medical Center and The New York State Psychiatric Institute.
She has been on the faculty of Weill Cornell Medical College and an Attending Psychiatrist at the New York Presbyterian Hospital, Payne Whitney Westchester Division since 1994. She is currently the Program Director for the Psychotic Disorders Continuum at Payne Whitney Westchester.
Office hours vary.

To schedule an appointment:
Call - (914) 997-5834 [or]
Email - dta2001@med.cornell.edu.