Dmitriy N. Feldman, M.D.
Interventional Cardiology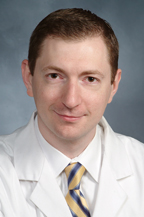 Dmitriy N. Feldman M.D. graduated Summa Cum Laude from NYU in December 1996 and received his M.D. degree from the Mt. Sinai School of Medicine in May 2001. He completed his medical internship, residency in Internal Medicine, fellowship in Clinical Cardiology and Interventional Cardiology Fellowship training at NYPH-Cornell Campus. He is board certified in Internal Medicine, Cardiovascular Disease and Interventional Cardiology.
Dr. Feldman is an Interventional Cardiologist specializing in coronary angioplasty and stenting as well as endovascular treatment of peripheral vascular disease. In addition, Dr. Feldman also manages cardiovascular and peripheral vascular diseases in an outpatient basis. His areas of research interest include percutaneous coronary intervention outcomes research and he has performed extensive work with the NY State Dept. of Health PCI database as well as the Cornell Catheterization Laboratory institutional database. His area of research expertise includes the use of peri-procedural pharmacological agents, particularly bivalirudin, glycoprotein IIb/IIIA inhibitors, thienopyridines and peri-procedural platelet function testing. Dr. Feldman's clinical research activities have been published in the Journal of American College of Cardiology, American Journal of Cardiology, American Heart Journal and he has presented his findings at numerous national meetings including the American Heart Association, American College of Cardiology and Transcatheter Cardiovascular Therapeutics.
Dr. Feldman is currently an Assistant Professor of Medicine and Assistant Attending Physician.
A summary of Dr. Feldman's Education, Training and/or Faculty Appointments is listed as following:
2001 M.D. - The Mount Sinai School of Medicine
2002 Internship, Internal Medicine - NYPH - Cornell Campus
2004 Residency, Internal Medicine - NYPH - Cornell Campus
2007 Fellowship, Cardiology - NYPH - Cornell Campus
2008 Fellowship, Interventional Cardiology - NYPH - Cornell Campus
Other: Fellow, American College of Cardiology
Fellow, Society for Cardiovascular Angiography and Interventions
*Please note that Dr. Feldman is fluent in Russian.