Diana Feldman, M.D.
Psychiatry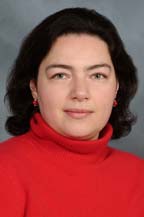 Diana Feldman, M.D. is board certified in General Psychiatry and Geriatric Psychiatry
She is directing the Payne Whitney Geriatric Psychiatry Outpatient Clinic, which provides evaluations, consultations and treatment for adults of age 65 and older. The mission of the clinic is to address the specific psychiatric needs of older adults. The focus of the geriatric outpatient service is evaluating and treating new psychiatric problems, in particular affective disorders, psychotic disorders and dementia presenting with psychiatric symptoms.

Dr. Feldman also maintains a private practice in General Adult Psychiatry and her practice is open for consultations, psychopharmacology and psychotherapy. She earned her medical degree with honors in research from Weill Medical College of Cornell University. She completed her residency in Psychiatry and fellowship in Geriatric Psychiatry at New York Presbyterian Hospital Weill Cornell Medical College.
She practices in English and Russian.