Thomas Ciecierega, M.D.
Pediatric Gastroenterology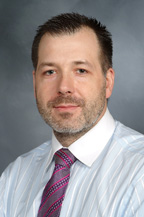 As a pediatrician, I have a chance to care for the whole family and not only the patient. It is the greatest privilege. Being a pediatric gastroenterologist allows me to do what I love the most -- to be able to help children with their ever-challenging gastrointestinal problems. At Weill Cornell, I am a part of a unique institution, where comprehensive patient care, family integration, and pioneering research are driving forces that subsequently help patients and their loved ones to receive best gastrointestinal care.
Dr. Thomas Ciecierega is the Director of the Pediatric Motility Center at NewYork-Presbyterian Phyllis and David Komansky Center for Children's Health. He is also Assistant Professor of Pediatrics at Weill Cornell Medical College and Assistant Attending Pediatrician at NewYork-Presbyterian Hospital/Weill Cornell Medical Center.

Dr. Ciecierega is an expert in pediatric motility, specializing in the diagnosis and treatment of gastrointestinal motility disorders including esophageal, colonic, and anorectal motility testing. In addition to routine gastroenterology testing, Dr. Ciecierega performs ph Impedance and wireless video endoscopic capsule testing. As a member of the Komansky Center's Pediatric Aerodigestive Center team, Dr. Ciecierega works closely with urology and surgery specialists, and has developed specialized clinics for children with congenital ano-rectal and esophageal defects, and is an expert in treating chronic constipation. He sees patients from the local area as well as from around the country.

Dr. Ciecierega completed his medical degree (M.D.) at the Karol Marcinkowski University of Medical Sciences in Poznan, Poland. He then immigrated to United States in 2003. He went on to train at the Goryeb Children's Hospital in Morristown, New Jersey where he completed a three-year residency in Pediatrics, followed by a Fellowship in Pediatric Gastroenterology, Hepatology, and Nutrition at Children's Hospital of Wisconsin, Medical College of Wisconsin.

In addition to his clinical work, Dr. Ciecierega is an active researcher and educator. He is involved in the teaching of medical students, residents, fellows, and medical housestaff. He has presented his research and taught at many national and international conferences. Dr. Ciecierega's interests include aerodigestive disorders, motility disorders, feeding/nutrition problems, constipation, and gastroesophageal reflux disease.

Dr. Ciecierega In the News: