Bradley Pua, M.D.
Vascular and Interventional Radiology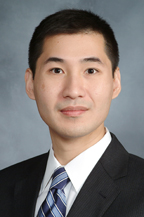 Bradley B. Pua, M.D. is an Assistant Professor of Radiology at Weill Cornell Medical College and Assistant Attending Radiologist at NewYork-Presbyterian Hospital-Weill Cornell Campus specializing in Interventional Radiology.
Dr. Pua obtained a B.S. degree in Chemistry from New York University (NYU) and continued at NYU School of Medicine where he was awarded his M.D. degree. He completed three years of surgical residency at New York University Medical Center prior to deciding to pursue a career in Interventional Radiology and subsequently completed a fellowship in Interventional Radiology at NewYork-Presbyterian Hospital-Weill Cornell Campus & Memorial Sloan Kettering Cancer Center. Dr. Pua remained at Cornell to complete his diagnostic radiology residency and was elected to serve as Chief Resident in his final year.
Dr. Pua's clinical expertise is in Interventional Radiology and performs a variety of interventional procedures including, but not limited to: arterial embolizations, stent placements, tumor ablations, biopsies and vascular access. His interests include both pediatric interventions and minimally invasive cancer therapy, with a particular focus on thoracic tumors.
Dr. Pua's research interests are in simulators for medical education as well as thoracic tumor treatments for which he has written both review articles and book chapters.
Dr. Pua is a reviewer for Radiology and the Journal of Vascular and Interventional Radiology and is the Section Editor of Interventional Radiology for Radiology Case Reports.
Top Procedures:
1. Embolization and ablation of various tumors.
2. Pediatric Interventions
3. Management of Vascular Malformations
4. Image Guided Biopsy