Bruce Leuchter, M.D.
Psychiatry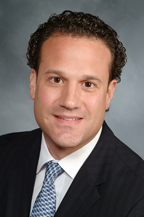 I believe that an integrative approach to mental health care is critical, and that a fundamental understanding of the relationship between the brain and body is central to delivering superior care. In my view, the link between the brain and body is indisputable. For instance, we know that depression is associated with decreased energy levels, altered sleep patterns, changes in appetite and physical pain. We know that anxiety can affect our autonomic nervous systems leading to elevated blood pressure, increased heart rate, heavy breathing and sweating. Conversely, medical conditions affecting the body can negatively impact the brain. For instance, hormonal fluctuations in men and women can affect mood, libido and concentration.

As a physician specializing in clinical neuropsychiatry, I aim to elucidate how the "hardwired" brain drives behavior, thinking and emotions on a case-by-case basis. I work with patients to apply this understanding to the treatment of mood disorders, anxiety disorders and disorders of attention and executive function. My primary objective is to optimize thinking patterns, behavioral tendencies and overall performance by leveraging all available diagnostic tools and therapeutic resources, including psychotherapy, lifestyle changes, nutritional modification, and when necessary, medications and non-invasive brain stimulation. My approach is evidence-based, straightforward and action-oriented. Most importantly, I strive to ensure that my patients receive the most comprehensive and highest-quality care.
Dr. Bruce Leuchter is the Director of Clinical Neuropsychiatry and Neurostimulation Therapies at Weill Cornell Medical College. Dr. Leuchter completed an Internal Medicine internship and dual residencies in Neurology and Psychiatry at New York Presbyterian Hospital, Memorial Sloan Kettering Cancer Center and Weill Cornell Medical College under the mentorship of Dr. David Silbersweig. He went on to pursue post-doctoral research in Brain Stimulation and Therapeutic Neuromodulation at Columbia University under the mentorship of Dr. Sarah H. Lisanby. Dr. Leuchter was appointed to the faculty of Weill Cornell Medical College in July 2006, and currently holds the appointment of Assistant Professor of Psychiatry.
Dr. Leuchter joined Goldman Sachs & Co. in 2008 to spearhead a new venture focused on emerging biotechnologies, with an emphasis on translational neuroscience. In this role, he sought to identify potentially disruptive therapeutics, medical devices, and diagnostics being developed by biotechnology companies targeting therapeutic areas of high unmet medical need. Two pivotal reports published while at Goldman Sachs include: "Alzheimer's Disease: Drug market poised for expansion", and "Multiple Sclerosis: a market at a crossroads".
Dr. Leuchter returned to Weill Cornell Medical College in July 2009 to accept the position of Director of Clinical Neuropsychiatry and Neurostimulation Therapies, and currently holds this appointment. His professional activities focus on the research and development of novel medicines and medical devices for the treatment of disorders of the brain and nervous system. His Healthcare IT interests center around the emerging field of brain optimization software applications.
Dr. Leuchter collaborates actively with the life-science community as an advisor to investment management firms targeting opportunities in the field of commercial neuroscience. He serves as a strategic advisor to multiple companies developing drugs, devices, diagnostics and health IT products for disorders of the brain and nervous system.