Balkrishna Kalayam, M.B.,B.S.
Psychiatry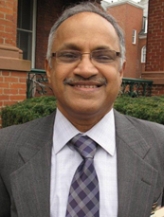 Dr. Kalayam received his medical degree from The University of Bombay, in Bombay, India in the year 1974. After a year of internship at the Cook County Hospital in Chicago Illinois, Dr. Kalayam completed his residency in Psychiatry at The Albany Medical College and Albany Medical Center Hospital, Albany, New York. He then had a year of fellowship in Consultation Liaison Psychiatry and psychosomatic medicine before joining the Geriatric Division of The New York Presbyterian Hospital- Weill Cornell Medical Center.
Dr. Kalayam is presently Chief of the Inpatient Psychogeriatric service at the Payne Whitney Westchester Division of the hospital. He is involved in several ongoing federally funded investigations in late-life mood disorders. Dr. Kalayam has an extensive background in electrophysiology and evoked potentials and has been the recipient of an NIMH funded award in this field. He has over 50 publications in several reputable journals. He is a mentor for several trainees in the field of geriatric psychiatry as well as electrophysiology. His areas of expertise include the treatment and study of late life depression, dementia, and the inter-relationships of late-life mental disorders and physical illnesses. Over the years he has been a recipient of several teaching awards and honorable mention.