Bilal Chughtai, M.D.
Urology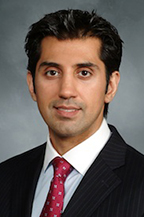 Dr. Chughtai joined the Department of Urology full-time in July 2012 as an Assistant Professor in Urology/Assistant Attending in Urology. Dr. Chughtai completed his BA at New York University, his MD at the State University of New York at Stony Brook, and his residency at Albany Medical Center. He subsequently completed his fellowship in Female Urology, Neurourology, and Voiding Dysfunction here at Weill Cornell Medical Center and Memorial Sloan Kettering Cancer Center.
Dr. Chughtai is an active participant in clinical and translational research and is involved in protocols as either primary or co-investigator that include NIH and industry support. He is a journal reviewer for European Urology, Journal of Urology, Urology, and Journal of Endourology. He has also published over 50 peer-reviewed articles, co-authored chapters in several urologic texts, and has presented numerous abstracts at national meetings.
His current research interests include BPH, female urology, health outcomes, cost effectiveness analysis, pelvic reconstruction, bioengineering, and male pelvic health. In addition, he is involved in resident and medical student training and education.
His practice focuses on patient quality of life and quality care. His surgical expertise includes minimally invasive surgical techniques for incontinence and vaginal reconstruction for prolapse and fistula repairs. The Center also provides out-patient pelvic floor therapy and sacral nerve stimulation. His specialized training has allowed him to pursue cutting edge surgeries and treatments that may not have been performed elsewhere.
If you are interested in making an appointment with Dr. Chughtai, please call his practice at (646) 962-4811. Dr. Chughtai sees patients at the Iris Cantor Men's Health Center.