Ashutosh K. Tewari, M.B.,B.S.
Urology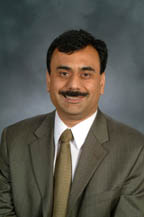 For more information, please visit: www.nycrobotics.com
Dr. Tewari is one of the world's leading experts in the fields of prostate cancer and robotics, having performed over 3,500 robotic prostatectomies during the course of his career. He is the Director of the Prostate Cancer Institute and the LeFrak Robotic Surgery Center at Weill Cornell Medical College. In addition, he is a tenured professor of urology and a tenured professor of public health.
Dr. Tewari's prostate cancer program is one of the busiest in the world; in the last five years, he has performed over 2,500 prostatectomies at this facility.
EDUCATION & MEDICAL TRAINING
ROYAL COLLEGE OF SURGEONS, Glasgow, United KingdoHonorary Induction, Fellowship: FRCS, 2009
VATTIKUTI INSTITUTE OF UROLOGY, HENRY FORD HOSPITAL, Detroit, Michigan
Chief Resident in Urology, 2002-2003
Resident in Urology, 1999-2003
UNIV. OF FLORIDA, SHANDS HOSPITAL & VETERANS' AFFAIRS MEDICAL CENTER, Gainesville, Florida
Fellowship in Prostate Cancer, 1994-1997
UNIV. OF CALIFORNIA SAN FRANCISCO, VETERANS' AFFAIRS MEDICAL CENTER, San Francisco, California
Fellowship in Urologic Oncology, 1993-1994
ROYAL LIVERPOOL, UNIVERSITY HOSPITAL, Liverpool, United Kingdom
Transplant Fellow, 1992-1993
SANJAY GANDHI POST GRADUATE INSTITUTE OF MEDICAL SCIENCES, DEPT. OF UROLOGY, Lucknow, India
Diplomate of National Board (DNB), 1991
Master of Surgery in Urology, Board Certification in Urology, 1991
Chief Registrar, 1990-1991
Senior Registrar in Surgery, 1988-1990
GSVM MEDICAL COLLEGE, Kanpur, UP, India
Master of Surgery, Board Certification in General Surgery, 1987
Registrar in Surgery, 1986-1987
Resident in Surgery, 1985-1986
Internship, 1984
Bachelor of Medicine and Surgery (Doctor of Medicine equivalent), 1983