Anil Kesavan, M.D.
Pediatric Gastroenterology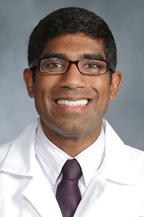 Dr. Anil Kesavan is an Assistant Professor of Pediatrics at Weill Cornell Medical College and Assistant Attending Pediatrician at NewYork-Presbyterian Hospital/Weill Cornell Medical Center. His clinical expertise includes pediatric gastroenterology, hepatology, and nutrition.

After receiving his B.A. in Neuroscience from Oberlin College, Dr. Kesavan completed his medical degree (M.D.) at the University of Illinois. He was elected a member of the Alpha Omega Alpha Medical Honor Society during medical school. He went on to train at the Morgan Stanley Children's Hospital of New York-Presbyterian, Columbia University Medical Center where he completed a three-year residency in Pediatrics, followed by a Fellowship in Pediatric Gastroenterology, Hepatology, and Nutrition.

Dr. Kesavan is trained in performing diagnostic and interventional endoscopic procedures in children of all ages with gastrointestinal diseases. This includes: esophagogastroduodenoscopy, colonoscopy, ileoscopy, polypectomy, percutaneous gastrostomy tube placement, sclerotherapy, variceal banding, endoscopic management of upper gastrointestinal bleeding, liver biopsy, esophageal dilatation, and foreign body removal.

In addition to his clinical work, Dr. Kesavan is actively involved in the teaching of medical students, pediatric housestaff, and fellows in both the inpatient and outpatient setting. His past research has focused on gastrointestinal complications after pediatric bone marrow transplantation. Current clinical interests include aerodigestive disorders, pediatric liver disease, feeding/nutrition issues, constipation, and gastroesophageal reflux disease.