Anna-Maria Demetriades, M.D., Ph.D.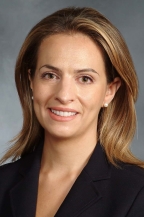 Dr. Demetriades is an Assistant Professor of Ophthalmology at Weill Cornell Medical College and a member of the Weill Cornell Eye Associates. She is a fellowship-trained glaucoma specialist and her expertise encompasses the medical and surgical management of glaucoma.
After graduating from Oxford University Medical School, England, Dr. Demetriades completed her residency at the Wilmer Eye Institute, Johns Hopkins Hospital, and her glaucoma fellowship at the Bascom Palmer Eye Institute, University of Miami. The Wilmer Eye Institute and the Bascom Palmer Eye Institute are recognized as the leading ophthalmology departments in the United States.
While at Johns Hopkins, Dr. Demetriades completed a research fellowship focusing on the role of gene therapy in the treatment of ocular neovascularization, targeting diseases such as age-related macular degeneration and diabetic retinopathy. She received research grant awards, published her scientific work in peer-reviewed journals, and presented at international meetings. During her residency at The Wilmer Eye Institute, she received the House Staff Teaching Award for her contribution to medical student education.
Dr. Demetriades keeps up to date on the latest innovations in glaucoma treatment from around the world and her laboratory is focused on developing novel treatment technologies. Her team is currently exploring new methods to delay and prevent progression of glaucoma. As a physician-scientist, her ultimate goal is to help patients manage their disease and maintain vision throughout their lives.
Dr. Demetriades is currently accepting new patients. Appointments can be made by calling 646-962-2020, or by visiting http://www.weillcornelleye.org/.