Jessica G. Davis, M.D.
Medical Genetics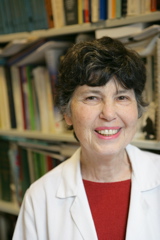 As a clinical geneticist, I am concerned with the diagnosis, cause and treatment of individuals and their families who present with a range of medical genetic problems. These include birth defects, chromosomal disorders, single gene disorders, and biochemical genetic problems. I have a particular interest in disorders of connective tissue including Marfan syndrome, Ehlers Danlos syndrome, the skeletal dysplasias and osteogenesis imperfections, as well as the genetics of hearing loss anddevelopmental disabilities.
Dr. Jessica Davis is an Associate Professor of Clinical Pediatrics at Weill Cornell Medical College and Associate Attending Pediatrician at NewYork-Presbyterian Hospital and the Hospital for Special Surgery. An accomplished clinician and researcher, Dr. Davis attended Wellesley College, where she received her B.A. before completing a summer fellowship at the Marine Biological Laboratory at Woods Hole, Massachusetts. Her medical training (M.D.) was completed at the College of Physicians and Surgeons, Columbia University in New York City.

After receiving her M.D., Dr. Davis remained in New York City, completing an internship in pediatrics at St. Luke's Hospital. She followed this with two postdoctoral research fellowships at Albert Einstein College of Medicine in the Department of Genetics and the Department of Pediatrics, where she focused on Cytogenetics. She went on to complete a clinical fellowship, also at the Albert Einstein College of Medicine, in the Department of Pediatrics regarding Management of the Handicapped Child.