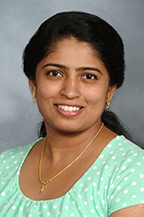 I chose to be a pediatrician because I enjoy the opportunity to work with children and follow them as they mature and grow.
I found my passion with pediatric nephrology, where I am privileged to be intimately involved with patients and their families in clinical care, and also engaged with the research of emerging issues affecting children.
Dr. Suman received her degree in Medicine (M.B.B.S.) from J.S.S. Medical College in India. Following medical school, she completed a residency in Pediatrics at Nassau University Medical Center, East Meadow, NY, and was appointed as Chief Resident in Pediatrics for an additional year. After the residency program, she completed a fellowship in Pediatric Nephrology at The Children's Hospital at Montefiore, Albert Einstein College of Medicine, Bronx, NY. Since she wanted to pursue a career in clinical research, she complemented fellowship training with a Master of Science Degree in Clinical Research Methods from the Clinical Research Training Program (CRTP) at Albert Einstein College of Medicine.

Her areas of interest include pediatric hypertension, nephrotic syndrome, urinary tract disorders, acute kidney injury, chronic kidney disease and kidney transplantation.
Publications
BOOKS/BOOK CHAPTERS
Pediatrics for Medical Students, Nephrology Chapter: H. Suman, F J. Kaskel and J. C. Kupferman, Lippincott Williams & Wilkins, third edition.
Clinical Expertise
Hypertension
Nephrotic Syndrome
Hematuria
Proteinuria
Glomerulonephritis
Urinary Problems and Treatment
Kidney Stones
Kidney Disease
Kidney Failure
Kidney Transplantation
Dialysis
Hemodialysis
Peritoneal Dialysis
Contact Info
505 East 70th Street
Helmsley Tower, 3rd Floor
Appointments
Assistant Professor of Pediatrics
Weill Cornell Medical College, Cornell University
Assistant Attending Pediatrician
NewYork-Presbyterian Hospital