Harry Leonard Bush Jr, M.D.
Vascular Surgery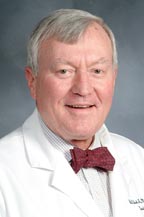 My goal in life has been to provide the highest standard of care to my patients with vascular disease. Although I am a surgeon, care for my patients includes medical evaluation and risk factor assessment, total body evaluation of their vascular status, appropriate medical and conservative treatments, and the appropriate interventions depending on the natural history and stage of their disease. I have the expertise to offer more aggressive therapy, including minimally invasive diagnostic and percutaneous treatments as well as traditional surgical reconstruction when appropriate. In order to provide this scope of care, I have studied the biology of atherosclerosis and the natural history of plaque disease and aneurysmal degeration in different arteries, medical therapies available, as well as the interventional treatments. I have had to continually retrain myself as new scientific information and new techniques for intervention have become available. This is necessary in order to provide my patients with the optimal treatments depending on their individual needs. I have been fortunate to have trained and practiced at major academic medical centers where I have been able to achieve these goals.

For Dr. Bush's publications, click here
Dr. Bush obtained his MD degree from the College of Physicians and Surgeons at Columbia University in New York City. Following completion of a residency in general surgery at the Columbia Presbyterian Medical Center, Dr. Bush completed Fellowships in Vascular Surgery at the Boston University Medical Center and the Tufts New England Medical Center.
In addition to his active clinical practice, Dr. Bush serves as an investigator on several clinical research studies investigating new minimally invasive methods of treatment for vascular diseases. Dr. Bush has been the author or co-author of over 100 manuscripts published in scientific journals. He is a member of several professional societies, including the Society for Vascular Surgery, the American Association of Vascular Surgery, the International Cardiovascular Surgery Society, The Society of University Surgeons, and the American Heart Association Councils on Stroke and Cardiovascular Surgery, the Association for Academic Surgery, the Society for Clinical Vascular Surgery, the Eastern Vascular Society, the European Vascular Society and the New York Surgery Society.
Most recently, Dr. Bush was co-author of a new study done at NewYork-Presbyterian that was published in the journal Radiology. This was the first study to show that magnetic resonance angiography (MRA) technology is useful in noninvasively guiding the planning of treatment for severe as well as mild peripheral vascular disease. These noninvasive angiograms complement his studies on the effectiveness of minimally invasive techniques for vascular reconstruction. His bench research has focused on the healing response of the arterial wall (intimal hyperplasia) and he received the von Liebig Award for Excellence in Vascular Biology for this work. In addition, he is known for his skills as a teacher. He has received the Residents' Award for Excellence in Teaching three separate times.